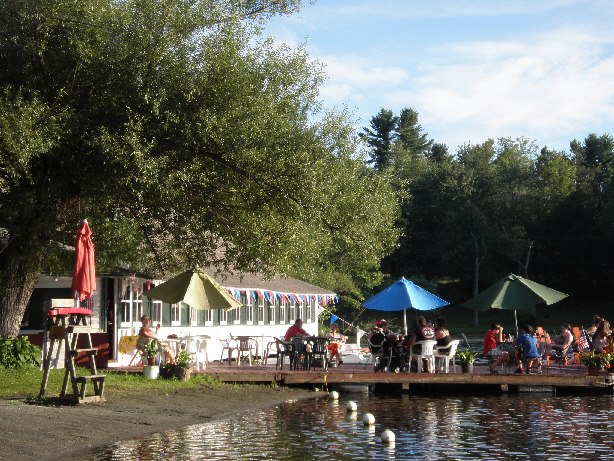 Restaurant at Lyons Lake
Dinner on the dock or inside with a view of the beautiful sunset.
Please see full restaurant menu below.  Take out is available.
Bar hours:  Wednesday thru Friday 5 PM to 12 AM
Saturday and Sunday Noon to 12 AM
Restaurant kitchen hours:
Wednesday, Thursday  5 PM to 10PM
Friday 5  PM to 11 PM
Saturday 12 Noon to 10 PM
Sunday 12 Noon to 9 PM
Appetizers
CrabCake $9.95                                                                                                                                                                                                                                   Maryland Crab cake, served on greens with spicy remoulade, marinara or sweet chili sauce
Nachos Supreme $10.00
Choice of grilled chicken or ground beef
with tortilla chips, jalapenos, lettuce, tomato, cheddar cheese, black olives,
served with sour cream and salsa.
Calamari $8.95
Lightly floured and deep fried
with choice of remoulade, marinara or
sweet chili sauce.
Murray's Chicken Wings $9.50
Our original Murrays wings, ten tossed in choice of wing sauce
Snippy Snaps $7.95
Boneless chicken strips tossed in
in choice of sauce
Wing Sauce Choices: Buffalo style Hot, Medium, or Mild, Garlic Parmesan, BBQ, Honey Mustard, Ellen's 2-Way Fire Sauce or Peanut Butter and Jelly
Chicken Fingers $6.95                                Duck Wings $6.95
Breaded chicken tenders served with             Deep fried until crispy and served
BBQ sauce or honey mustard                           with sweet chili sauce (4)
                                                                                Add fries and salad of the day(6) $9.50
Breaded Shrimp $7.00
Deep fried until crispy golden,                        Mozzarella Sticks $6.00
Served w/zesty cocktail sauce                         Battered and deep fried, served
                                                                               w/marinara or melba sauce
Lyons Lake Fries $3.95
Add Cheese & Bacon $5.50                             Onion Rings $5.95
                                                                              Beer battered & deep fried                
Sweet Potato Fries $5.95
Extra Sauces please add .75
Extra Blue Cheese add $1.00
Salads
House Salad $3.95                                     Chicken Caesar Salad $8.00
Fresh greens with garden vegetables          Grilled chicken breast with crispy romaine,
and choice of dressing.                                   croutons and homemade Caesar dressing.
Cobb Salad $9.95                                      Steak Salad $9.50
Sliced grilled chicken tossed with greens,  8 oz. char broiled sirloin steak with
garden veggies, blue cheese crumbles,        greens, garden vegetables, cheese and
hard boiled egg and crispy bacon.                choice of dressing.
Choice of dressing and served in a
tortilla basket.
Grilled Shrimp on Greens $10.95
Tender grilled shrimp on a bed of
fresh greens with garden vegetables
and choice of dressing
Sandwiches
All sandwiches are served with fries and salad of the day.
Your choice of roll, bread (white, wheat or rye) or tortilla
wrap (garlic herb or plain) Substitute Sweet potato fries or
onion rings add $2.00
Lyons Lake Sandwich $7.95                  Philly Cheese Steak $8.25
Char-grilled chicken breast topped              Chopped steak and cheese with
With peppers, onions, and swiss                  peppers, onions on a toasted hoagie
cheese.                                                                roll w/garlic butter.
The Oinker $8.25                                      Smokey Chicken Sandwich $8.25
Roasted pork loin cutlet w/bacon                Grilled chicken breast topped w/smokey
cheddar, onion, garlic served on                  BBQ sauce, bacon and melted cheese.
a hoagie roll.
Turkey Club $8.25                                    Chicken Caesar Wrap $7.95
Our own roasted turkey breast served        Grilled chicken breast with crispy
in classic fashion w/bacon, lettuce,             romaine, homemade Caesar dressing
tomato and mayo on choice of bread.         and croutons wrapped in a tortilla
Pulled Pork Tacos $8.95                        BLT $6.95
Three soft tacos stuffed with our                  The classic sandwich served with
in-house slow roasted pork in BBQ              lettuce, tomato and mayo on toasted
sauce topped w/coleslaw                                bread.
Portobello Sandwich $8.50
Marinated Portobello mushroom grilled
and topped w/melted smoked mozzarella,
roasted red peppers and red onion
Burgers
All burgers are served with lettuce, tomato, fries and salad of the day.
Substitute sweet potato fries or onions rings for an additional $2.00
Hamburger $7.95                                       Dock Slider Burger $9.95
8 oz. char grilled all beef patty                        8 oz. patty topped with bacon, cheddar
                                                                               cheese, BBQ sauce and onion rings
Cheeseburger $8.95
8 oz. char grilled all beef patty                        Veggie Burger $6.95
With choice of cheese.                                       Grilled black bean veggie patty
                                                                               Add Cheese $7.95
Build Your Own Burger
Additional toppings .75 each
Cheese: American, Swiss, Cheddar or Bleu Cheese crumbles $1.00
Sautéed mushrooms
Jalapenos
Black Olives
Roasted red peppers
Sauteed onion
Sauteed green peppers
Raw onion
Tomato
Salsa
BBQ sauce
Bacon $1.00
Kids Only
Junior Hamburger $4.00                      Hot Dog $4.00
¼ lb. burger with fries                                    served w/fries
add cheese $5.00                                              add cheese sauce .50 more
Kids Pasta $4.00                                        Chicken Tenders $4.00
served w/marinara or melted butter            served w/fries
Deep Sea Delight
Clam Boat Special $8.50   Fresh clam strips, lightly floured and  fried,w/tartar or cocktail sauce and  served with fries ands salad of the day.
Fish Fry Platter $9.95                              Shrimp Platter $10.95
Beer-battered 8oz Haddock filet,                  Ten succulent breaded shrimp, deep fried
Served w/fries and fresh coleslaw.                and served w/fries, coleslaw and tartar of
Choice of tartar or cocktail sauce.                 cocktail sauce.
Entrees
All entrees served with a garden salad and choice of dressing
Shrimp Scampi $16.95                            NY Strip Steak $23.95
Large tasty shrimp sautéed w/fresh            Char-grilled aged beef topped w/sauteed
garlic and EVOO served over pasta             mushrooms and onions in garlic butter.
Substitute veggies for shrimp $12.95         Served w/vegetable of the day and choice
                                                                             of baked potato or fries.
Mediterranean Pasta $16.95
Pasta tossed w/spinach, black                      Mixed Fried Seafood $19.95
and green olives, broccoli, roasted red       Beer battered haddock, clam strips, bread-
peppers, artichoke hearts, tomatoes, all    ed shrimp, and calamari served w/fries
sautéed in white wine, EVOO and garlic    and coleslaw and choice of tartar or
the topped with Feta cheese!                        cocktail sauce.
Add Grilled chicken $18.95
Add Shrimp $19.95
Surf & Turf $23.95  Maryland Crab Cake plus a 6 oz. char grilled NY strip steak with sautéed mushrooms and onions in garlic butter. Served with vegetable of the day and choice of baked potato or fries.    
Please be sure to check out our daily specials and find us on Facebook or on our website at www.lyons-lake.com for updates on events and entertainment.
For information on booking your next party or event please contact Barry Rings at ringsb398@gmail.com
Thank you for visiting us here at Lyons Lake. We hope you enjoyed our beautiful lake and our restaurant! Please come back soon!
Time to Relax
Join us Wednesday through Friday after 5 PM or Saturday and Sunday beginning at noon for a delicious cold beverage.  We feature seven beers (some are local craft beers that change often) and a cider on tap, as well as a variety of domestic and import bottled beers. We also have a full bar and a wine list.
Be sure to check our Facebook page or calendar for entertainment listings.